HiPhi
HiPhi is a luxury intelligent electric vehicle brand under Human Horizons, officially launched on July 31, 2019. It aims to redefine the new category of intelligent automobiles with a fresh perspective and framework. Currently, it offers models such as HiPhi X, HiPhi Z, and HiPhi Y.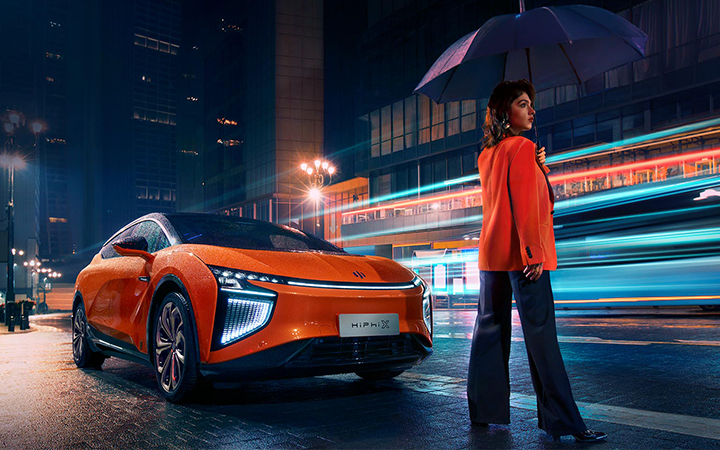 Borderless Car is a professional car import and export trade company. We want to create a borderless world auto industry. The following is the HiPhi vehicle models that we are selling.
H-SOA Super Body Electronics and Electrical Architecture
HiPhi's H-SOA Super Body Electronics and Electrical Architecture consist of six computing platforms that oversee the entire vehicle. These platforms are the Entertainment Domain Computing Platform (IDCM), Autonomous Driving Domain Computing Platform (ADCM), Power and Chassis Domain Computing Platform (VDCM), Body Domain Computing Platform (BDCM), Central Gateway (CGW), and V-Box Communication Computing Platform.
HiPhi Wing Doors System
By combining innovative HiPhi top wing doors with Rolls-Royce-style suicide doors, it redefines modern car door design and introduces six new intelligent access modes for users. The fully electronic control technology of all doors is integrated with ID sensing recognition, B-pillar facial recognition, remote control through the app, and other unlocking methods.
HiPhi Play
Built on the H-SOA Super Body Electronics and Electrical Architecture, HiPhi Play is user-friendly and allows easy combination of functions. Users can quickly develop, deploy, and share intelligent applications, breaking down hardware barriers in cars and creating customizable scene cards to co-create a "thousand people, thousand rides" driving experience.
CrossLoop Thermal Management System
Based on the intelligent evolution of the H-SOA architecture, it utilizes water routes to connect four energy circuits, achieving energy complementation among the air conditioning, battery, and motor systems. This system emphasizes energy efficiency and the safety of the three electrical systems. Under low temperatures, it achieves a coefficient of performance of 2.75. For every unit of electricity used by the HiPhi Y heat pump system, it produces the same amount of heat as 2.75 units of electricity used by traditional electric heaters, thereby extending the vehicle's range.
Customizable Intelligent Lighting System
Consists of ML-programmable intelligent headlights and ISD intelligent interactive lights.