Leapmotor
Leapmotor was founded in 2015, encompassing intelligent electric vehicle design, research and development, manufacturing, smart driving, motor control, battery system development, and cloud-based connected car solutions.
As a technology-driven enterprise, Leapmotor has consistently pursued comprehensive in-house research and development of core technologies. It is among the new wave of domestic automakers with the capability for full-scale self-research and production, along with high vertical integration in the intelligent electric vehicle sector. Dedication to creating maximum value for user mobility and lifestyle positions Leapmotor as an esteemed brand in the realm of intelligent electric vehicles.
Currently, Leapmotor offers models such as Leapmotor C01, Leapmotor C11, and Leapmotor T03.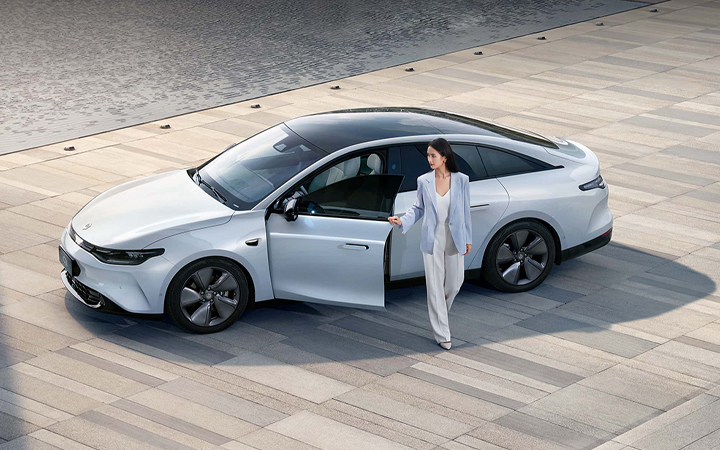 Borderless Car is a professional car import and export trade company. We want to create a borderless world auto industry. The following is the Leapmotor vehicle models that we are selling.
Qualcomm Snapdragon SA8155P Chipset
The Qualcomm Snapdragon SA8155P chipset, serving as a digital cockpit chipset, enables seamless control across three interconnected screens.
Leapmotor Pilot Intelligent Driving Assistance System
By leveraging a complete suite of independently developed intellectual property, the Leapmotor Pilot system delivers 23 intelligent driving assistance features.
AI Intelligent Battery Management System
Real-time monitoring and preemptive alerts for battery data, with active protection integrated between the vehicle and the cloud, including wake-up functionality for the thermal runaway management system (BMS).
CTC Battery Chassis Technology
By tightly integrating the battery with the chassis, this advanced technology enhances electric vehicles with extended range, enhanced performance, and heightened safety levels.
Leapmotor OS 3.0 Intelligent Cockpit
Utilizing a high-performance digital cockpit chipset, Leapmotor OS 3.0 ensures smooth touch operation and a 10.25x12.8x10.25-inch interconnected triple-screen display, adapting based on individual driver preferences.